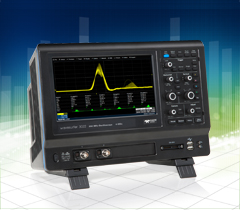 Amplicon has introduced the new
Teledyne LeCroy WaveSurfer 3000
oscilloscope. With a large 10.1" touchscreen display, 4 GS/s sample rate, 10 Mpts/Ch of long memory and fast waveform update of 130k wfms/sec, it could be described as the top oscilloscope in its class.
The new WaveSurfer 3000 series has one of the most advanced oscilloscope user interfaces developed, it puts all the power and capabilities of the modern oscilloscope right at your fingertips. It has been designed with the all-important oscilloscope controls being accessed through the intuitive touch screen.
Time saving shortcuts and intuitive dialogs simplify the setup; a deep set of debug and analysis tools help to identify problems and find solutions quickly.
Oscilloscopes are constantly evolving to meet the rapidly changing test and measurement needs of today's cutting edge designs. Additional complexity and capabilities are introduced with each new feature, for instance a protocol analyser or a function generator. With added capabilities the oscilloscope can become complex and cumbersome to use.
The traditional user interface consisting of knobs, buttons, soft keys and nested menus is unmanageable and more buttons are typically added to access new functionality. The touchscreen combined with the MAUI (Advanced User Interface) solves the complexity problem and reduces the large number of buttons needed to operate the WaveSurfer 3000.
Andrew Pook, Product Specialist for Measurement & Control at Amplicon commented: "The WaveSurfer 3000 has the most advanced toolset we have seen on an oscilloscope in this price range. Its biggest advantage though, is the touchscreen display, which makes acquisition and measurement as simple as using your Smartphone."
26.08.2014