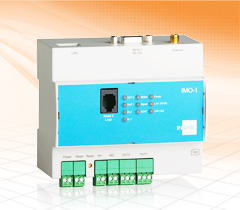 The
IMO-1
is a powerful yet cost-effective GPRS fault annunciator, it allows you to remotely monitor digital devices via Ethernet, serial and/or digital inputs, as well being able to directly interface with Siemens LOGO! micro controllers via a serial LOGO! Interface.
Users can easily set up the device to monitor inputs, outputs, flags and keys, and define specific states to trigger various alarms, such as local relay outputs, SMS and email messages via GPRS communication.
Secure GPRS communication can also be established to dial-out and dial-in to the router or other local devices, allowing for easy access to remotely monitor and reconfigure equipment.
Read our latest white paper
on the top 10 threats to automation and process control systems and their countermeasures with INSYS-icom products.
27.02.2014