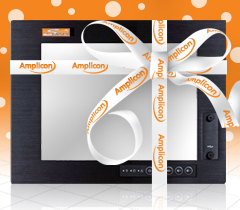 We are pleased to announce the winner of the exciting Amplicon Christmas competition.
The winner of the fabulous Senses 7150 Panel PC is Phil Owens from Assystem UK, who managed to match the Amplicon team members to their correct presents in just 12 seconds!
Phil Owens, Senior EC&I Engineer at Assystem UK commented: "Having never won a competition before, I was amazed when I was contacted with the news that I had won the Amplicon Christmas competition! As far as prizes go, this one is definitely impressive. Thank you very much Amplicon, this is an excellent start to 2014."
We would like to thank all who took part in the Amplicon Christmas competition and we look forward to being of service to you in the near future.
Happy New Year to you all!
15.01.2014