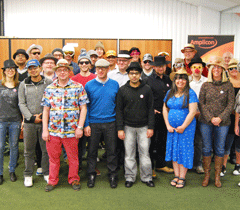 Amplicon have been supporting the Breast Cancer Campaign for many years, and every year come up with a new way to raise funds for the charity.
This year the staff at Amplicon had a day full of fundraising activities which included an invitation to arrive at work wearing hats & specs! A fine was imposed for anyone not joining in the fun!
Aside this exciting fundraising initiative and based on the success of last years internal auction, Team Amplicon decided to go global and set up its own eBay charity shop! Each item was donated by the Team with all proceeds going to the Breast Cancer Campaign. We have decided to keep the shop open all year so we can continue to improve our charitable support to Breast Cancer.
The senior managers each gave up a days holiday pay to boost the funds, and the Company matched the funds raised, this year we have managed to raise £3000!
Wearing pink makes us part of an amazing movement delivering innovative research and practical help; and it is worth remembering that one woman in nine in the UK will be diagnosed with this disease during her lifetime.
07.11.2013