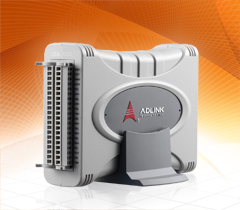 Amplicon has recently announced the availability of the latest USB digital I/O modules from ADLink, the
USB-7230
and
USB-7250
. These modules are a real alternative to PCI/PCIe based I/O, where there is limited expansion available on a PC motherboard or for use with laptops and other portable applications.
The USB-7230 provides 32-CH isolated digital I/O and 2-CH frequency/event counters, and the USB-7250 8-CH solid-state relay output (4 from C and 4 from A), 8-CH isolated DI, and 2-CH frequency/event counters. Featuring high voltage on/off control and monitoring, isolation voltage support up to 2500 VRMS, integrated frequency/event counting and change of state (COS) detection. Because the USB-7230 and USB-7250 use a built-in complex programmable logic device (CPLD), there is no strain on CPU resources; this means data loss is avoided on changes in signal status. As well as this, a programmable digital filter removes unexpected glitches from input channels to efficiently monitor I/O status.
The USB-7230 and USB-7250 modules feature USB power, removable screw-down terminals for simplified connection and a multi-functional stand for fast and easy desktop, rail, or wall mounting. Additionally, a lockable USB cable secures connectivity. The USB DAQ modules also make device ID setting simple with a rotary control conveniently identifying the active module in multiple-connection configurations.
30.10.2013