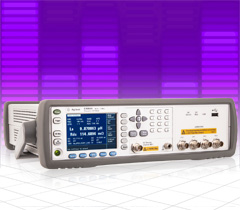 The Amplicon Measurement & Control division announce the release of the
Agilent E4980AL
precision LCR meter with three cost-effective frequency options: 300 kHz, 500 kHz & 1 MHz.
The Agilent E4980AL general-purpose LCR meter provides the best combination of accuracy, speed and versatility for incoming inspection of components, quality control, and laboratory use. This LCR meter can also be used for evaluating LCR components, materials, and semiconductor devices over a wide range of frequencies (20 Hz to 300 kHz/500 kHz/1 MHz) and test signal levels (100 uV to 2 Vrms, 1 uA to 20 mA).
With its built-in comparator, the E4980AL can output comparison/decision results for sorting components. By utilising the handler and scanner interface options, the E4980AL can be easily combined with a component handler, a scanner, and a system controller to fully automate component testing, sorting, and quality-control data processing.
This LCR meter is equipped with a front panel USB memory interface that allows users to quickly and easily save state files, measurement log data, and display images to an external USB memory device. The 4980AL also comes with a standard GPIB/LAN/USB control interfaces that provide a variety of paths for controlling the instrument.
The E4980AL comes with a wide variety of accessories designed specifically to address a comprehensive range of component, semiconductor, and material measurement applications in typical R&D and production environments.
21.08.2013