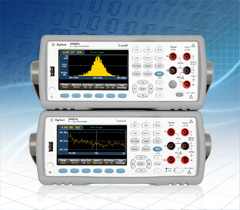 The Amplicon Measurement & Control division announce the release of the new
Agilent 34461A and 34460A
benchtop 6½ digits digital multimeters.
The new Agilent 34461A and 34460A DMMs are specifically designed to allow engineers to see measurement data in new ways, receive actionable information faster, and document their results more easily. These units are designed with the exclusive Truevolt technology that reduces extraneous factors such as noise, injected current and input bias current for increased measurement confidence.
The Agilent 34461A DMM is a direct replacement for the industry-standard Agilent 34401A, and was designed to make migration easy for current users of the 34401A. The Agilent 34460A offers engineers a basic entry point to the 6½ digit class of DMMs.
Compared with the 34401A DMM, the new 34461A offers expanded current ranges from 100 µA to 10 A. Both the 34460A and 34461A have a temperature measurement function (RTD/PT100, thermistor), and expanded diode measurement capability to allow engineers to measure a larger full-scale voltage (5 V) so they can test more diode types, including LEDs.
Most DMMs on the market show results on a low-resolution numeric display. With the Agilent Truevolt series there is a 4.3-inch high-resolution colour display to view numerical readings, long-term trends (34461A only), measurement histograms and statistical information.
The Truevolt series comes with free DMM utility software that enables users to capture a digitised record, log measurements for longer periods under PC control or upload data captured directly from the instrument. Data can also be exported from a single DMM or multiple DMMs with time alignment to popular tools such as Microsoft Excel, Microsoft Word and MATLAB.
This series also comes with the DMM mobile utility which can be downloaded from the App Store free of charge, to view and control these DMMs from a remote location and receive email alerts when problems occur.
17.07.2013