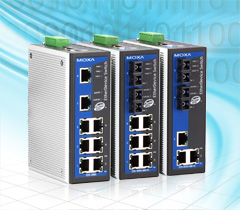 Amplicon have announced the release of the new
EDS-405A/408A-PN
Industrial grade, PROFINET enabled, managed Ethernet switches.
The EDS-405A/408A-PN switches are specifically designed for use in PROFINET PLC (Programmable Logic Controller) applications, this allows users to directly integrate and manage the switches in a SCADA (Supervisory Control and Data Acquisition) system without the need for additional configuration or any modifications. The switches can be directly installed into a new or existing PROFINET network to reduce deployment time; they can also be managed and monitored by SCADA system software, such as SIMATIC STEP 7.
The EDS-405A/408A-PN switches support Moxa's Turbo Ring and Turbo Chain network redundancy technologies. When a connection failure occurs, they enable fast network recovery in under 20ms for high network reliability. These switches also have a very fast booting time of under 10s, this ensures system availability and reduces maintenance costs.
Moxa have designed these switches specifically for use in industrial environments; the enclosure is a compact, metal, IP30 rated case that can be DIN-Rail or wall mounted for easy integration into cabinet installations, they can also withstand operation in extreme temperatures ranging from -40°C to +75°C.
The EDS-405A-PN and EDS-408A-PN are available with either 5 or 8 10/100BaseT(X) ports respectively, providing sufficient connectivity for a wide range of industrial applications. These switches also support Moxa's full suite of management features such as SNMP, port mirroring, QoS, IGMP snooping, IEEE 802.1Q VLAN, and port-based VLAN.
09.07.2013