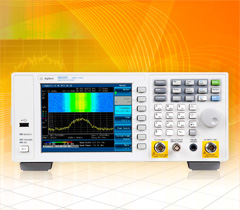 The Amplicon Measurement & Control division launch the
Keysight (formally Agilent) N9322C
, 9kHz to 7GHz range benchtop spectrum analyser.
The Keysight N9322C is a benchtop spectrum analyser with a frequency range of 9kHz to 7GHz with 1Hz resolution; specifically designed for cost-constrained applications in R&D, manufacturing, maintenance, education laboratories and bench repair. This unit has many value-added options including a channel scanner, tracking generator and time-gated spectrum analysis.
The N9322C has a typical DANL (Displayed Average Noise Level) of -152 dBm for viewing low-level signals. Its ±0.1-ppm annual aging rate reduces frequency drift for more accurate measurements. The channel scanner measures up to 20 channels simultaneously, while the 7-GHz tracking generator with built-in VSWR (Voltage Standing Wave Ratio) bridge supports general-purpose transmission and reflection measurements.
This unit is supplied with the Keysight Power Suite, which enables one-button measurement of channel power, occupied bandwidth, adjacent channel power and spectrum emission mask. The user-definable soft keys provide a quick access to seven of the most frequently used measurement setups making it easy to switch from one task to another. The spectrum analyser demodulation mode can accurately characterise AM, FM, ASK, and FSK signals.
28.05.2013