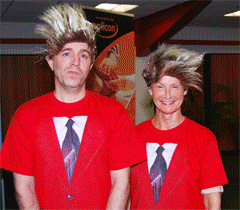 Every year Team Amplicon support a number of local and national cancer charities. Wig Wednesday, a CLIC Sargent initiative, is one big day in May when people across the UK unite to raise funds for children and young people with cancer. CLIC Sargent is the leading cancer charity in the UK for children, young people, and their families.

The Amplicon wig extravaganza was some weeks in the planning and the admin team came up with a day full of fun; we could all pay to look completely barking, in fact the 2 directors appearing as Jedward was possibly the high point of the day! Other events were a caption competition, where the management team had been photographed in a compromising situation! We even had 'guess the number of sweeties in a jar' along with the chance to buy and eat the most delicious homemade cupcakes!

Joining in with this fun event gave us an opportunity to help a fabulous organisation to deliver support and practical help; and it is worth remembering that being diagnosed with cancer is a frightening experience, and every day 10 children in the UK will hear this shocking news.

Well done Team Amplicon!
30.05.2013