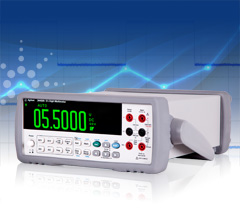 The Amplicon Measurement & Control division introduces the
Keysight (formally Agilent) 34450A
benchtop 5½ digits Digital Multimeter, reputed to be the fastest DMM in its class.
The Keysight 34450A is capable of measuring up to 190 readings per second with 0.015% DC Voltage (DCV) accuracy. This unit is equipped with multiple connectivity options including USB 2.0, serial interface (RS-232) and general-purpose interface bus (GPIB), giving users greater flexibility when transferring analysis data to a PC
The 34450A can deliver up to 50,000 readings of on-board memory, allowing users to log up to 14 hours of data at one sample per second. Furthermore, to simplify day-to-day tasks, the 34450A comes with a built-in histogram, performs basic statistical functions and provides simple data analysis.
This multipurpose dual-display device can perform 11 measurement functions including capacitance, 2 or 4-wire resistance and temperature measurements. Its high-contrast OLED display enables users to easily set up measurement functions using the one-page menu. The Keysight 34450A comes with the IVI-COM driver that enables easy integration with different programming environments such as Visual C#, Visual Basic .NET, Keysight VEE, NI LabVIEW, NI TestStand, and MATLAB.
25.04.2013