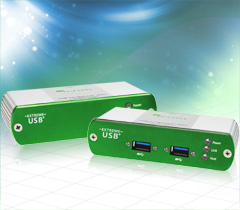 Amplicon have recently launched the
USB 3.0 Spectra 3022
, an innovative new USB extender system that is capable of increasing the distance of USB 3.0 up to 100 metres over fibre optics.
This extender system allows you to locate your remote USB 3.0 devices up to 100m from their local host. Installation is easy, there is no need to install software drivers; simply connect the local and remote extender units together with multimode fibre optic cable. The remote device can operate at the USB 3.0 high-speed data rate of 5Gbps, meaning high-performance end devices such as machine vision cameras, security cameras, and storage drives are supported.
The USB 3.0 Spectra 3022 system has been designed to reliably operate in both office and industrial environments; each unit has a rugged aluminium enclosure, lockable ports and various mounting options and is also backed by an industry leading two year warranty.
One industry that has quickly embraced USB 3.0's benefits is machine vision. With the advent of the USB3 Vision camera specification, which is based on USB 3.0, machine vision cameras can produce high resolution, vibrant colours and high frame rates cost effectively. The Spectra 3022 is USB3 Vision compliant, making it well placed to complement machine vision applications that need to deploy cameras at long distances.
19.03.2013