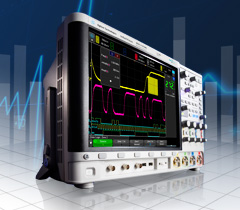 Amplicon has announced the launch of the
Keysight (formally Agilent) InfiniiVision 4000 X-series
of digital-storage and mixed-signal oscilloscopes. This new series offers unprecedented levels of flexibility and ease of use
The 4000 X-series series are fully upgradable oscilloscopes that feature a 12.1 inch capacitive touch screen display with touch-triggering capability, 200 MHz to 1.5 GHz bandwidth range, 4 Mpts standard memory, and industry-leading update rate of 1 million waveforms per second.
This new range has the same capabilities as five separate instruments in one unit including oscilloscope, protocol analyser, digital voltmeter, logic analyser, and dual-channel WaveGen function/arbitrary waveform generator. This key feature gives an uncompromised ability to test and debug electronic circuit designs faster and reduces the total cost of ownership.
This series has built-in segmented memory which enables you to capture more selective
signal details with less memory usage. The InfiniiVision series are the only oscilloscopes on the market that provide segmented memory acquisitions simultaneously on all analogue channels (up to four analogue channels) and logic channels (up to 16 digital channels) of acquisition.
The 4000 X-series also supports a wide range powerful triggering and intuitive decoding capabilities such as MIL-STD 1553 and ARINC 429, I2S, CAN/LIN, FlexRay, RS232/422/485/UART, I2C/ SPI, and USB 2.0 Hi-Speed, Full-Speed and Low-Speed.
25.03.2013