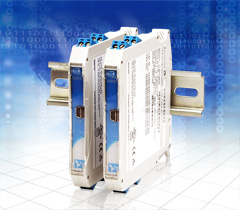 The Amplicon Measurement & Control division has announced the launch of new
TT230 series
. The TT230 series of compact two-wire transmitters provide isolation and convert thermocouple, RTD, voltage or current sensor inputs into a proportional 4-20mA output signal. This series are loop-powered and support both source or sink output wiring connections with a 12-32V DC supply.
The TT230 series comprises of different models designed to accommodate a variety of signal types. The thermocouple model accepts eight different sensor types (J, K, T, R, S, E, B, N), as well as ±100mV inputs, the RTD model can accommodate 2, 3, and 4-wire 100 ohm platinum sensors or 0-900 ohm linear resistance inputs, the voltage model converts bipolar signals from ±10mV to ±150V DC with multiple selectable ranges, and the current model can be adjusted to support ±20mA, 0-20mA, and 4-20mA DC input signals.
The TT230 series features a wide operating temperature range of -40 to 85°C, fast response time, electrical noise immunity, and surge protection; essential for consistent performance in harsh environments. These transmitters are DIN-rail mountable and can be easily setup and calibrated using the free Windows configuration software. These transmitters are also built to AS9100 aerospace and ISO 9001 certified quality control standards and backed by a 7-year warranty, which guarantees a long-lasting superior performance.
13.03.2013