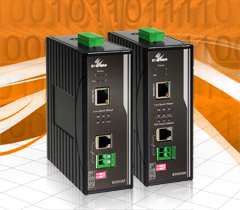 Amplicon have introduced the ED3538T and the ED3538R, an innovative new Ethernet extender system that can extend an Ethernet network and PoE+ power across pre-existing copper cabling, providing data rates of up to 100Mbps and power levels as high as 30 Watts.
One of the common issues encountered when installing Ethernet extenders is power availability at the remote location, the innovative
ED3538T/R
extender system completely removes this problem with the use of Power over Link (PoL) technology. When these extenders are installed in a point-to-point topology, only the local end of the network requires a power supply, power is sent along the copper cabling, which powers the remote extender unit and any connected PoE+ end device that is compliant with the IEEE 802.3af/at standard.
This Ethernet extender system consists of two units: the ED3538T Transmitter and the ED3538R Receiver. The ED3538T features one 10/100BaseT RJ-45 port for Ethernet connectivity, one RJ-11/terminal block connector for connection to a copper-pair cable, as well as dual power inputs for redundancy. The ED3538R has a receiving RJ-11/terminal block connector as well as a 10/100BaseT RJ-45 port that supports PoE+ device connectivity.
27.02.2013