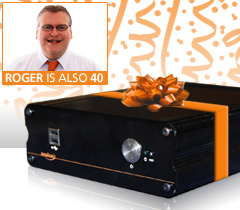 We are pleased to announce the winner of the first of our 40th birthday competitions.
The winner of our brand new
Impact-E 100
is David Walker from BAE Systems, who managed to correctly guess that Roger Wood is the member of the Amplicon team who is also 40 years old!
David Walker, Senior Electronic Design Engineer at BAE Systems commented:
"Thank you for the surprising and wonderful news that I have won your 40th anniversary competition. I thought the competition itself was very novel and innovative. It was nice to see a few of the faces behind the phone/email/scenes and I love Gina's new hair style. I look forward to receiving the Impact-E 100, and exploring its myriad of possible uses."
Our CEO would like to extend her very special thanks to all of you that thought she was 40; your votes were taken as a great compliment!
Thank you for taking part in the Amplicon 40th birthday competition and we hope you will join in some of other celebratory events in the coming year!
21.02.2013