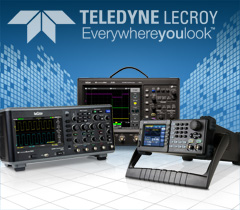 Amplicon are delighted to announce an exciting new partnership venture with
Teledyne LeCroy
, a global leader in the design, development and manufacture of high quality Oscilloscopes, Protocol Analyzers and complementary Test & Measurement solutions.
Amplicon's excellent track record in providing high quality Test & Measurement and Data Acquisition products coupled with their extensive technical knowledge, has positioned Amplicon as the exclusive UK technical provider of Teledyne LeCroy range of products.
This new partnership with Teledyne LeCroy will broaden the existing Amplicon Test & Measurement portfolio and provide customers with a wider spectrum of innovative Test & Measurement and Data Acquisition solutions.
Amplicon have the engineering expertise and capability to design bespoke test systems that can increase test throughput, engineering productivity, product reliability and reduce the total cost of ownership.
21.11.2012