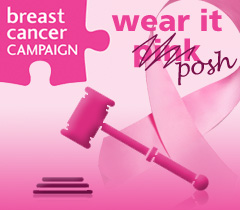 On Friday 2nd November Amplicon will once again hold its annual fundraising day in support of the Breast Cancer Campaign.
Every year we try to come up with an exciting way of wearing it pink; this year Team Amplicon will be dressing up in their glad rags and will be wearing it POSH' to show their support of this very worthwhile cause
The day will involve a number of fundraising activities including a homemade cakes stall, a raffle to win a 2-course meal for 2 at a local restaurant, an auction with items donated by the Amplicon team and generous local businesses.
We have also managed to secure a very special item for this year's auction, a copy of '
The Cancer Survivor Club
' written by Chris Geiger. The book is a collection of uplifting survival stories submitted by readers of a regular newspaper column written by Chris; the lucky person who bids the highest will have the book signed in person by Chris, who is the brother-in-law of the Amplicon Sales Manager, Richard Munson, and is himself a cancer survivor and a true inspiration to all of us!
The annual 'Wear it Pink' day is a real fun event at Amplicon and in addition to all of our activities, the members of Team Amplicon can also chose to make a very generous contribution and donate a days holiday! Last year we managed to raise an outstanding £3K and this year we are aiming to do even better!
30.10.2012