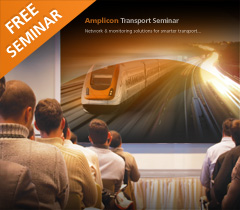 Amplicon are delighted to announce that its annual 'Network & Monitoring Solutions for Smarter Transport'
technology seminar
will be held at the Bluebell Steam Railway on November 28th 2012.The highlight of the day will be a ride through the beautiful Sussex countryside in the observation car driven by a small vintage steam engine.
All attendees will be treated to a day packed with interesting talks and demonstrations specifically tailored for engineers within the transport sector. The day will also include a very special trip back in time with a fascinating tour of the locomotive engine sheds plus a ride in a unique observation carriage, built in 1913, powered by one of the Bluebell Railway steam engines
The seminar will offer real insights into the technologies, systems and solutions applied in transportation; ranging from the acquisition of data using the latest technologies for remote monitoring and control, the transmission of data through resilient wired and wireless communication systems, and the processing of data using approved rugged computing solutions. The seminar will be hosted by Amplicon the automation, industrial networking and computing specialists, in conjunction with a guest speaker from IEI Technology, one of the world's leading Industrial computing providers.
23.10.2012