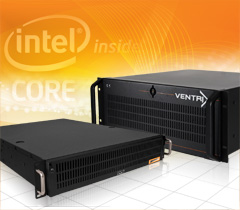 The Amplicon
Ventrix
and
Impact-R
industrial PCs have been further improved by Sandy Bridge Intel® iCore processing technology. This brings increased processor performance and the power of SATA III, USB3.0 and iAMT v7 to the industrial market, giving increased data speeds, optimal performance and remote maintenance capability.
Using the Q67 chipset with Sandy Bridge technology gives access to advanced display technology, allowing the Ventrix and Impact-R to deliver high performance graphics without the need and expense of adding additional graphics cards.
Constructed from industrial components and available in form factors
2U
,
3U
and
4U
, the new Amplicon iCore systems give you the reliability and longevity you demand for industrial applications.
02.10.2012