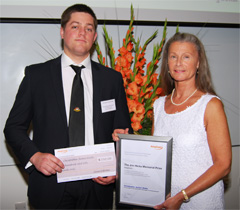 The Division of Engineering and Product Design, School of Environment & Technology at the University of Brighton held its annual prize giving event on 23 July 2012 in the Creativity Centre.
This year, the Amplicon Jim Hicks Memorial prize was presented by the Amplicon CEO, Gina Citroni, to Christopher James Watts who has just completed the third year of a four year MEng programme. Christopher is an outstanding student and is expected to graduate in July 2013 with a first class or a very good upper second class MEng in Digital Electronics, Computing and Communications degree. The award was given for his project In-car performance data logger for driving evaluation.
Dr Dal Koshal, Head of Division of Engineering and Product Design, commented 'We are delighted that Amplicon continue to support the university and its engineering students; industry recognition makes the Amplicon Prize a much sought after award'.
28.08.2012