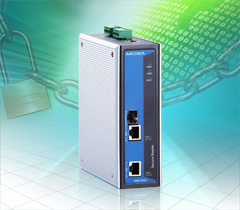 Amplicon has announced the release of a new industrial grade router, the EDR-G902. This router is designed to establish a secure high-speed connection to remote systems with enhanced security functions, an easy configuration interface, with a rugged design.
The
EDR-G902
can function as a LAN-to-LAN router/firewall, a LAN-to-LAN bridge firewall and a LAN-to-WAN router/firewall with NAT and VPN functionality. This flexibility means that the EDR-G902 can fortify specific areas of your automation network, such as WAN security to protect your network from external attacks, internal LAN protection by isolating and safeguarding your critical assets from internal network threats while also providing remote VPN secure access.
For many automation engineers, IT security is a formidable task; for this reason the EDR-G902 software has been designed to give easy configuration by implementing a unique suite of setup tools. The Quick Automation Profile (QAP) feature allows engineers to quickly select the firewall policy settings to create secure fieldbus networks. The SettingsCheck tool allows remote users to pre-test new policy settings, avoiding any wrong configuration from locking out the remote user and forcing a site visit for reconfiguration, and the PolicyCheck tool will support the user to debug policy settings and warn of any misconfiguration.
20.05.2012