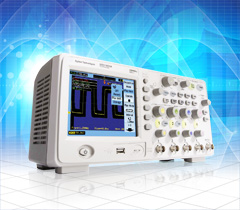 Amplicon have announced the launch of the
Agilent 1000B series
oscilloscopes. The 1000B series comprises of four types of oscilloscopes featuring two channels and bandwidths ranging from 50 -150 MHz. This new series is specifically designed to deliver powerful capabilities at an affordable price
All models in the 1000B series are equipped with a sharp colour LCD display that is easy to read even from wide angles. With up to 16 kpts of memory per channel, the 1000B series provides up to six times more memory than any other oscilloscope in its class. Additionally, the 1GS/s sample rate provides excellent signal detail.
The 1000B series oscilloscopes can display 23 automatic measurements and supplied as standard with go/no-go mask testing capability, which enables inexperienced oscilloscope users to perform precise parametric tests. This series also offers advanced capabilities such as sequence mode, which allows users to record and replay up to 1,000 occurrences of a trigger for easy identification of glitches and other anomalies.
These new oscilloscopes are ideal for any application where budget is a critical consideration. There are free educational kits making this a very attractive choice for education establishments. Engineers, technicians and hobbyists with limited budgets will be able to take advantage of the unbeatable value offered by the new 1000B series.
02.07.2012