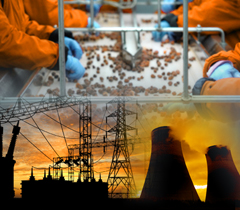 With a proven track record in supplying the process control industry with innovative systems and solutions; and a comprehensive range of process control and automation products we can deliver complete and cost effective solutions that will enable process control engineers to maximise the quality, productivity, efficiency and profitability of their production and manufacturing processes.
The newly launched
process control section
provides vital information on how Amplicon can help you to engineer the right system for your next process control and automation application. Whether it is serial I/O or Ethernet I/O devices, controllers running a SCADA application such as rackmount or embedded PC's, or a simple panel PC, Amplicon have the right product to meet your requirements.
At Amplicon we aim to take the hard work out of your process control project by providing some of the very best engineering and technical advice. Our
engineering services
division can customise and integrate your process control system to meet any engineering requirements.
Find out more about
Amplicon Process Control solutions
.
11.06.2012