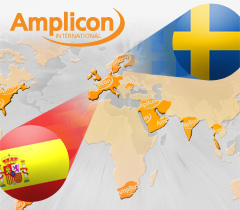 The Amplicon International team are delighted to announce the appointment of two new distributors:
SCSI SL
, a Spanish computer company, and
System Technology Sweden AB
, a Swedish Industrial solutions provider. These new appointments further strengthen the European distribution network and will provide high end industrial computing products to customers across Spain and Sweden.
Spanish Computer Services and Installations (SCSI) a well-established multi-vendor solutions provider will distribute the Amplicon industrial computer range and complement this with support packages that are traditionally available only at the top end of the server market..
System Technology Sweden AB, founded in 1986, has an experienced team of engineers providing high standard specialist support for the most demanding industrial applications. The introduction of Amplicon leading-edge industrial computers into their portfolio will allow System Technology Sweden to provide their customers with an even broader range of integrated solutions.
04.04.2012