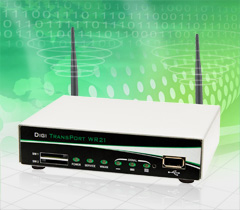 The
Digi Transport WR21
is based on the hugely successful Digi Transport series of enterprise class routers. It is from this legacy that the WR21 inherits its advanced routing functionality and resilient cellular network features. However, the WR21 sets itself apart with its compact rugged design, future proof 4G communications and a price point that rivals many basic cellular modems on the market.
In addition, the WR21 is extremely versatile, it has many different options of hardware and software features – meaning you only pay for the features you need for you application.
Rugged features include a wide operating temperature of -35°C to +75°C, various mounting options such as panel and DIN-rail, dual SIM card for cellular network backup and a best in class 5 year warranty. The WR21 supports HSPA+ which means that it is ready for the next generation of cellular infrastructure currently being rolled out in the UK and is quad band for world wide mobile network compatibility.
17.04.2012