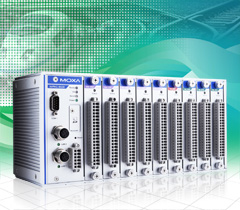 The Amplicon Measurement & Control Group launch the Moxa ioPAC 8000 series RTU Controller, one of the most ruggedized and reliable RTU controller available on the marketplace suitable for all harsh environments, but designed specifically for rail applications.
The
Moxa ioPAC 8000 series
modular RTU controllers are designed for remote data acquisition and monitoring. With a powerful processor and a variety of interfaces, the ioPAC 8000 can connect to PLCs, other serial devices and smart meters. They are suitable for applications that require a rugged and reliable design.
In addition, the ioPAC 8000 supports hot-swappable I/O and power module slots for redundant power inputs and sensor signals, allowing users to choose from a variety of I/O modules accessing sensor signals. The aluminium housing offers a robust and compact solution and provides greater protection for rolling stock, roadside, environmental monitoring, wind turbine and other outdoor applications.
The ultra-wide temperature design of the ioPAC 8000 makes it suitable for challenging conditions; with full compliance to the Rail EN50155 standard, the ioPAC 8000 is well suited to control and monitor onboard devices such as fire detectors, sensors and various electronic controls. The ioPAC also features a Linux/GNU platform adapted for data acquisition and condition monitoring.
10.04.2012