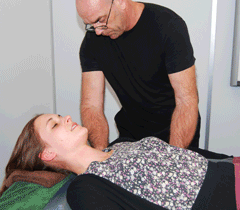 Team Amplicon have been enjoying a special relaxing treat, a special type of massage provided by
Stones Hydrotherm clinic
.
It is very different from other types of massage in that it is carried out with the client lying face up on two cushions that are filled with warm water, heated to between 30-40 degrees.
This ensures the whole of the back is in contact with the heat; the water supports the body and the heat from the water enables tight muscles to begin to relax before the massage even starts. The system is designed to give perfect spinal alignment whilst in this position.
The Amplicon HQ has now been turned into a very relaxed and stress free zone!
16.03.2012