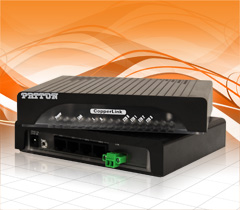 Use pre-installed twisted pair or coaxial cabling to extend your Ethernet network and achieve speeds of up to 170Mbp.
The Patton CopperLink model 2174 is a four port Ethernet extender system which can increase on the 100m distance limitation of Ethernet over copper cable, reaching distances of over 3km. The model 2174 also utilises legacy cable runs, removing the need for costly and time consuming new cable installations. There are three different interfaces available, dependant on the required link type: RJ-11 or terminal-block for unshielded twisted-pair links and BNC for coaxial cable links. Operation is completely transparent, meaning LAN bridging will simply pass all higher layer protocols including VLANs and all IP video compression schemes such as MPEG-4, H.264, and MJPEG.
The model 2174 is available now from Amplicon, a global company who supply Industrial Computing, Data Communications, Measurement & Control, and Engineering Services to systems integrators, OEMs and manufacturers around the world.
For more information about this product please
click here
.
06.03.2012