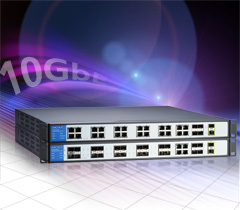 Amplicon have unveiled their 10 Gigabit Ethernet, industrial core switch product portfolio. The ICS-G7000 series provides greater connectivity, reliability and redundancy for non-stop operation.
A new level of high performance is achieved through the use of a maximum of four 10 Gigabit Ethernet (10GbE) ports. The high-capacity 10GbE network connectivity is ideal for building next generation, scalable industrial Ethernet infrastructures for industrial process automation and transportation applications, which need to expand to meet the growing traffic demands and advanced technological requirements of converged network services.
The switches deliver a higher level of reliability and availability by adopting a completely fan-less design, redundant power inputs, 0 to 60°C operating temperature range, UL 60950-1 and EN 50121-4 compliance, and a 5-year warranty.
The ICS-G7000 switches ensure a higher level of resilience for industrial network infrastructures by supporting Turbo Ring and Turbo Chain self-healing technology, and RSTP/STP for network redundancy. Layer 2 and layer 3 models are also available.
08.02.2012