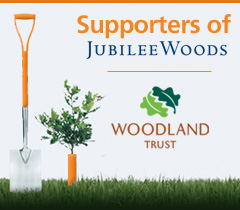 In a year-long celebration of the Queen's jubilee the Woodland trust are aiming to plant six million trees across the UK as part of the Jubilee Woods project.
And, to mark the month of the Queen's accession to the throne some 60 years ago, the Woodland trust have set an ambitious challenge of getting one million trees in the ground in February 2012, as a wonderful start to the Jubilee celebrations.
Amplicon as part of their
social responsibility
agenda are putting on their wellies, grabbing a spade and will be among the millions of people who will be celebrating the Queen's Diamond Jubilee year by planting trees across the land.
And throughout this celebratory month there are numerous ways we can all get involved: from planting new woodland with your community; donating funds to help plant trees; planting trees in school grounds; or even a single tree in your own back garden. Anyone, anywhere, can easily plant a tree for the Jubilee and become one in a million in February.
Amplicon are inviting you to spread the word to as many people as possible, and you, your family, friends, school or community groups can be part of this special moment in time and create a living, breathing legacy in your own backyard!
To mark this momentous occasion, everyone who plants a tree will also be making history and will be recorded in a new Royal Record.
To find out more about a whole year of Jubilee tree planting, tree species, where to buy your trees and other tree planting activities why not visit:
www.jubileewoods.org.uk
Amplicon are a corporate member of the
Woodland Trust
.
01.02.2012