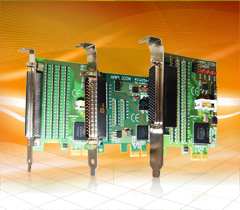 The new Amplicon PCIe-200 series are high performance digital I/O data acquisition cards; implementing the high-bandwidth advantage of the PCI Express x1 interface for large scale data transfer, low latency and low power consumption. Designed to meet stringent performance requirements, the PCIe-200 cards feature guaranteed measurement accuracy and it is ideal for a wide range of applications such as scientific research, laboratory/building automations, design validation, manufacturing test & measurement and embedded OEM applications.
The new series comprises of three different cards:
PCIe-215
,
PCIe-236
and
PCIe-296
which feature 48, 24 and 96 bits of programmable parallel digital I/O with two 82C54 counter timers respectively. Users can cost effectively migrate to this PCIe form factor seamlessly as these new DIO series are backwardly compatible with the existing Amplicon PCI-200 series DIO boards.
The PCIe-200 series can be used in 32 & 64 bit Windows operating environments. Drivers are available for all popular high-level programming languages including, C#, VB/VB.NET, Delphi, Agilent VEE and Labview.
25.01.2012