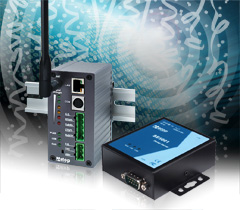 We are pleased to announce the winners of the Amplicon Wireless LAN Technology seminar prize draw.
The winner of the 1st prize, an Atop SW5001 serial to wireless 802.11g device server, is Martin Lordan from Nokia Siemens Networks UK. Martin was delighted with his prize and commented "What a surprise! Today Amplicon, next the Euro Lottery roll over!"
The winner of the 2nd prize, an Atop SE5001-S2 Serial to Ethernet device server is Theo Stafford from PSW Building Consultancy Ltd. Theo, who wasn't quite as ambitious as Martin, said, "Thank you very much – a nice surprise!"
The Amplicon team would like to extend our thanks to all who attended the Wireless LAN Technology seminar and made the day such a successful event.
13.12.2011