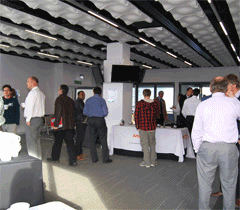 Amplicon's Wireless LAN Technology seminar held at the Amex Stadium on the 30th November proved to be a huge success with over 60 delegates attending on the day.
The impressive AMEX stadium, the new home of Brighton & Hove Albion, was the back-drop for the day. Presentations were given on wireless LAN technology, wireless systems within automation and transport industries, the importance of wireless site-surveying and the sessions finished with exciting live product demonstrations from the Amplicon product development team.
Innovative technologies such as Turbo roaming and Dual RF redundancy were highlighted as key features for successful Wi-Fi system operation. Turbo roaming allows for secure wireless client roaming in as little as 50ms, making it ideal for train-to-ground communication and applications where seamless transfer of data is critical. Dual RF redundancy is designed for rapid fail-over to increase the stability and reliability of wireless communications, crucial for high availability networks.
For an overview of the seminar please
click here
.
12.12.2011