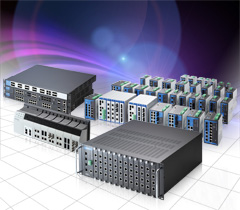 High capacity, high performance and high availability: These are but a few buzzwords which describe Moxa's new range of industrial grade, modular, rack-mount switches.
The
ICS-G7748, G7750 and G7752
are layer 2 "core" switches, meaning they are designed to handle the central backbone of large distributed automation networks, their modular design allows them to populate up to 48 x Gb and up to 4 x 10Gb Ethernet ports; media types include copper via RJ-45 and many different fibre types via SFP interfaces.
ICS-G7848, G7850 and G7852 are the layer 3 equivalents, which introduce the routing intelligence required to facilitate internetwork communication.
The ICS series offers far more than others in its class with advanced features to provide a truly rugged, highly reliable product. The ICS series has fan-less operation, even when fully populated with fibre; dual isolated power supplies, both hot-swappable and load-sharing; hot-swappable Ethernet modules, a comprehensive link layer redundancy protocol suite and a 0-60°C operating temperature range.
Find out more
about Amplicon's complete "edge-to-core" product offering.
07.12.2011