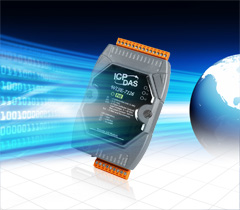 Amplicon has announced the release of the innovative web-based intelligent PAC controller -
WISE-7100
series.
The WISE-7100 is a product series developed by ICP DAS which can function as a control unit for use in remote logic control and monitoring in various industrial applications. WISE-7100 series offers a user-friendly and intuitive web interface that allows users to implement IF-THEN-ELSE control logic on controllers by using just a few clicks; no programming is required!
In addition, based on WISE advanced P2P function, users can expand logic rule design from a single WISE controller to multiple WISE controllers. This advanced function greatly increases the convenience and minimises human error especially when performing complicated logic rule design that involves communication between multiple controllers.
The WISE-7100 range offers a perfect automation solution that is easy-to-use, affordable and easy to maintain; it will allow users to dramatically minimise the investment in time, labour and cost spent on automation system development.
02.12.2011