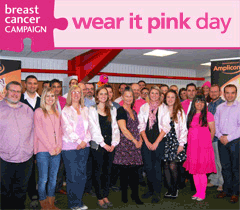 Team Amplicon look forward to the opportunity to support the annual Breast Cancer appeal by wearing pink in the office – a shocking event by most peoples standards as the Amplicon Boys don't always look their absolute best in any shade of pink!
Over the years we have come up with some innovative ways of raising funds; we pay to wear pink, we fine those who don't or won't wear pink, we arrive in our pyjamas, we sell our holiday entitlements and our operations director even risked life and limb by entering a boxing event!
This year we decided on a pink auction of our personal treasures and heirlooms to raise money for Breast Cancer. The marketing team set up Amplicon's own version of eBay and everyone was encouraged to donate anything decent and legal, to be sold to the highest bidder.
Some interesting lots arrived in the auction room, tickets for Brighton v Barnsley at the Amex Stadium, and much fun was had as Team Amplicon desperately tried to out bid each other! The day resulted in a total of £3000 being raised for 'Wear it Pink 2011'.
Well done Team Amplicon!
02.11.2011