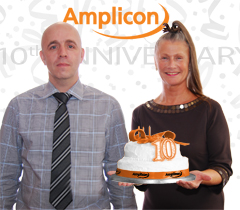 Cakes, balloons and beautiful flowers from Team Amplicon marked the 10th anniversary of one of the most successful partnerships in the history of Amplicon!
The Amplicon directors, Gina Citroni, Chief Executive Officer and Douglas Saunders, Operations Director both joined Amplicon in 2001.
Gina was part of the original MBO team in March 2005 and become sole owner in March 2009.
12.10.2011