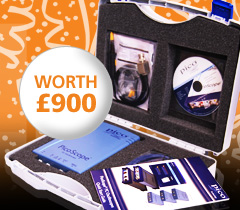 We are pleased to announce the winner of the Amplicon and Pico Technology prize draw.
The winner of the PicoScope 4227 Kit worth £900, is Robert Norris from Qinetiq.
Robert Norris, Spacecraft Integration GSE Manager at Qinetiq commented: "I was delighted to win the PicoScope 4227 Kit, this definitely breaks the "I never win anything" rule for me. We do use hand-held scopes but have no experience with the Pico brand and are looking forward to putting it through its paces".
Thank you to all of you that took part in the Amplicon free prize draw.
06.10.2011