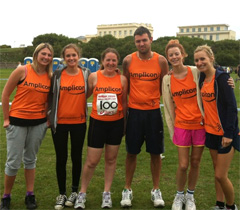 On Sunday 14th August the brave members of team Amplicon joined the Cancer Research South Coast Half Marathon, in Seaford East Sussex.
Rigorous training had been undertaken over a number of months; well that was what we were led to believe! The end result found the team limbering up on a chilly Sunday morning in preparation for a very early morning jog along the Seaford sea front!
Amplicon support cancer research nationally and locally by sponsoring The Martlet's Hospice magazine; annually we join in with the 'Wear it Pink' campaign and this year we have added sponsorship of the 'Running for their Lives' event and in the process managed to raise an outstanding £800!
Cancer Research is a charity very dear to our hearts at Amplicon. Following some years of treatment our financial controller, Amanda Hoxha won something that money just can't buy! After 5 years of perseverance, she got the official confirmation that she was completely cured of her cancer.
So at Amplicon we know that together we can help Cancer Research find new ways to prevent, diagnose and treat cancer.
Well done Team Amplicon!
19.08.2011