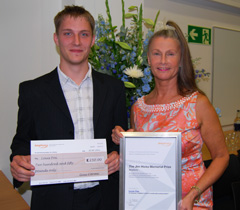 The School of Computing, Engineering and Product Design, University of Brighton held its annual School prize giving event on Wednesday 27th July 2011 at the impressive new Huxley Building.
The annual awards recognise outstanding student performance across a number of engineering and technology areas. Amplicon have been supporters of both the university and the local promotion of science and engineering at grass roots level. This year Gina Citroni, the chief executive officer and owner of Amplicon was asked to talk to the parents and students on the need for electronic engineers in UK industry.
Citroni commented on the fact that for the past few years all universities have been experiencing difficulty in recruiting students into electrical/electronic engineering courses. There has been an 8% decline in students going on to study engineering at university level over the past decade and this is despite the fact that there are an increasing number of individuals attending university, up to 25% more than ten years ago.
Amplicon presented the Jim Hicks Memorial Prize to Louis Fox for his project 'Intelligent control of a waste water pumping station for which he received a 1st Class BEng (Hons) degree in Digital Electronics, Computing and Communications. Louis will be continuing his education by following his current exam success with a Masters Degree.
29.07.2011