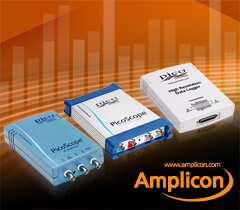 Amplicon proudly announce its partnership with Pico Technology, a worldwide leader in the design, development and manufacture of high-performance PC Oscilloscopes and Data Loggers.

For over 35 years, Amplicon has been the UK's number one distributor and manufacturer of high quality Test & Measurement and Data Acquisition products that are specifically designed to meet both budgetary and technical requirements; from low-cost, entry level through to high-precision integrated solutions.

This partnership with Pico Technology has enabled Amplicon to boost its product portfolio to provide leading edge, innovative Test & Measurement and Data Acquisition solutions.

James Okpeh, Amplicon Measurement & Control Product Specialist commented: - The partnership with Pico Technology underlines Amplicon's on going commitment to provide our customers with high quality products and solutions.
25.07.2011