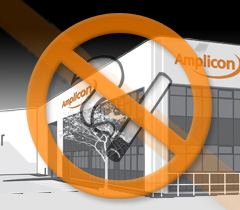 Over 4000 chemicals and more than 50 of them carcinogens, that's what you get from a cigarette. It's no wonder that in developed countries smoking kills more people than HIV, illegal drugs, alcohol use, traffic accidents, murder and suicide combined.
It is a fact that smoking related deaths are avoidable so Amplicon came up with a plan to help its employees to stop smoking. The plan was simple; encourage kicking the smoking habit at work as part of our broader sustainability programme.
Our first volunteer was Simon Shoobridge, Amplicon's Production & Warehouse supervisor. He was given time and use of the company vehicle to attend his local NHS Stop Smoking sessions. In addition Amplicon built a blog for Simon on the company intranet where messages of support were continuously coming in and the whole company could support Simon's efforts.
Encouraged by this, we decided to bring the Stop Smoking programme in-house to make it even more convenient for those ready to kick the habit; and 3 more members of the Amplicon team have now joined the programme.
Amplicon, a smoke free zone!
02.06.2011