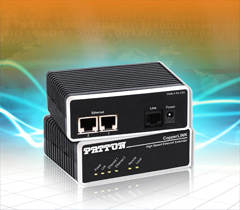 Amplicon have introduced the new Model 2173 Ethernet Extender capable of increasing the distance of Ethernet over copper cabling faster and further than ever before.
The Model 2173 is ideal for applications where an Ethernet network needs to be installed where legacy two-wire cabling is in existence, not only can this solution provide significant reduction in installation costs, but the Model 2173 is capable of increasing the 100m transmission distance limitation of Ethernet to an industry leading 1.6km.
The Model 2173 features an auto-rate adaptation feature which provides the maximum achievable asymmetrical line rate based on environment and the length and gauge/type of extension cable. Operation is completely transparent, the bridged extenders will pass higher layer protocols, including 802.1Q VLAN tagged and untagged packets. The Ethernet interface offers dual switching ports for simultaneous connection of two Ethernet enabled devices, achieving auto sensing 10/100Mbps, full or half duplex operation.
All these features ease the deployment process and allow for complete plug and play operation, this technology is ideal for installers and system integrators looking for a cost-effective alternative to more complicated and expensive wiring installations such as CAT5 cable.
Find out more about the new Patton Model 2173
13.04.2011