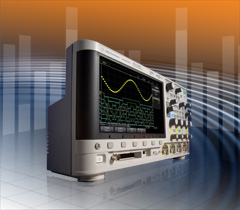 The InfiniiVision X-Series offers entry-level price points to fit your budget with superior performance and optional capabilities that are not available in any other oscilloscope in its class. Our breakthrough technology delivers more scope for the same budget.
The InfiniiVision Series is redefining how customers think of oscilloscopes. Each InfiniiVision series offers unique attractive form factors. All offers MegaZoom custom ASIC technology, which enables unmatched real-time viewing of waveforms in their truest analog form.
All offers deep acquisition memory and measurement solution-specific application options such as mask testing and segmented memory. In addition, our 3000 X-Series offers serial decode and trigger for various protocols. This combination of performance and features makes the InfiniiVision the perfect tool for R&D troubleshooting and validation. But, these scopes also offer great value to lower manufacturing cost of test, and to educators in advanced teaching labs, training the future R&D engineers.
For further details please visit Amplicon's T&M shop: www.testandmeasurementshop.co.uk
07.04.2011