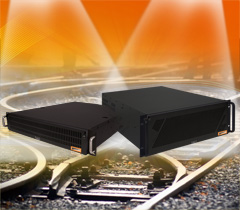 Amplicon's industrial computer division has announced the release of two rail certified rackmount computers. Both fully certified to EN50121-4:2006 and based on Amplicon's latest generation of Intel Core i7 high performance hardware.
The new Impact-R 2020 RAIL & Impact-R 4010 RAIL systems have been independently tested by TÜV Product services. The standard itself relates to railway application electromagnetic compatibility, emissions and immunity of signalling and telecommunications apparatus; a requirement for systems operating up to 3 meters of the track itself.
The systems are based on Intel's latest Core i5 and i7 processors, and combine both ground breaking performance, with rail industry compliance, housed in a rugged 19" rackmount industrial grade enclosure.
Featuring iAMT 6.0 the systems can be remotely controlled over a network, allowing them to be fully managed, or even power cycled, from a remote networked location, further diversifying the possible locations where the Impact-R rail system could be installed.
For more information please visit Amplicon Rail section
17.03.2011