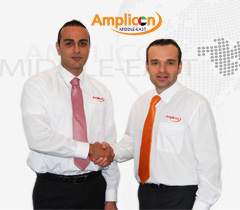 Amplicon, the leading provider of Industrial IT and Instrumentation solutions, announces the opening of Amplicon Middle East. The new office, based in Dubai, will service the growing global demand for Amplicon Industrial computers, data communication and measurement & control solutions; and will be able to provide local application and technical support to its growing base of customers and prospects in the region.
This exciting new initiative is spearheaded by Mohammed Abusamra and a team of technical sales and support engineers. Mohammed has spent the last 4 years at Amplicon HQ in the UK working in the data communications group; and he is now looking forward to the challenge of running his own sales operation. His knowledge of the Amplicon product portfolio combined with market place expertise plus local language means Amplicon ME is ideally placed to capitalise on the opportunities presented by the large investment in infrastructure projects throughout the region.
The continued promotion and consolidation of successful international business has prompted Gina Citroni, the Amplicon CEO, to invest in the international side of her business. 'A degree of optimism and entrepreneurship is called for when success is being delivered despite the trading difficulties' she commented.
The growth of international sales is fundamental to the future success of Amplicon and this further development of Amplicon International as a key part of the Amplicon Group underlines the commitment to deliver growth in a very challenging business environment.
Find out more about Amplicon International
02.03.2011