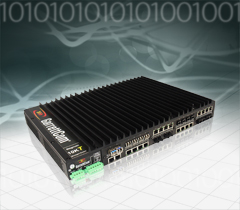 Amplicon have introduced the new Magnum 10KT managed switch from GarrettCOM. The 10KT is a 36 port configurable switch providing rack-mount space efficiency for heavy duty Industrial applications.
Dual hot-swappable power supplies in a 1.5U rack-mount package: High voltage AC/DC and low voltage DC hot-swappable power supplies for redundancy and increased reliability.
Precision timing, full IEEE 1588v2 implementation: High precision IEEE 1588v2 timing synchronisation with precision as low as single-digit nanoseconds, making it an ideal solution for the power utilities market.
Energy-efficient thermal design for maximum reliability: New advanced thermal design techniques enable the 10KT to deliver high reliability and configurability even at extended operating temperatures.
Substation-Hardened, IEC 61850-3 compliant: Exceeds IEEE 1613 and IEC 61850 Environmental Standards for Substation Automation Products.
23.02.2011