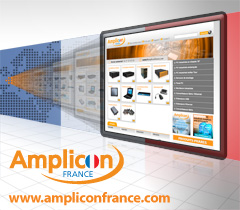 Amplicon, the leading provider of Industrial IT and Instrumentation solutions, announces the opening of an office in France.
The new office, based in Lyon, will service the growing demand for Amplicon Industrial computers, data communication and measurement & control solutions; and will be able to provide local application and technical support to its growing base of customers and prospects in the region.
Many leading System Integrators in France have been quick to select Amplicon as their partner of choice when a mission critical Industrial IT and Instrumentation solution is needed; key customers in the region using Amplicon solutions include Alstom, CEA, the French Army and companies operating in the transport and energy sectors.
"We have seen significant business growth in France" said Darren Saxby, Amplicon International Sales Manager. "Our French customers have been delighted with the service and quality of products we are able to offer"
"Opening an office in France is part of our on-going growth strategy and our commitment to developing local sales and support offices" said Gina Citroni, Amplicon CEO.
For further details please visit:
www.ampliconfrance.com
16.02.2011