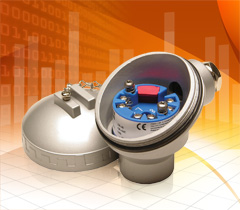 The Acromag's new ST131 series is an ASIC-driven RTD transmitter offering convenient PC-based setup through a USB interface and the performance advantages of analog signal conditioning.
The initial offering in Acromag's new ST130 series of low-cost, temperature transmitters is an ASIC-driven RTD signal conditioner, Model ST131. Units combine the simplicity of a digital USB setup and calibration interface with the inherent performance advantages of analog signal conditioning. Selling from just £69.00 with free Windows configuration software, this DIN Form B head-mount instrument will convert the input signal from any 100 ohm Platinum RTD sensor to a highly accurate, loop-powered 4-20mA output. A ruggedized design features -40 to 80°C operation, electrical noise immunity, and surge protection.
Despite their tiny size and economical price tag, ST131 transmitters are full-featured. These transmitters provide sensor excitation and perform advanced signal linearization, lead-wire compensation, and sensor fault detection functions. Units can also support any 100 ohm Pt RTD sensor (alpha = 375-393) or 0-900 ohm input. Designed for harsh environments, the unit's ASIC exhibits very low drift across wide ambient temperatures and is highly resistant to RFI, EMI, ESD, and EFT effects. Simultaneous differential sampling and auto-zero techniques yield further accuracy improvements. Another benefit, the output is non-polarized and reverse polarity protected. Factory calibration is also available.
A variety of options add greater flexibility. Programmable over/under range and fault/alarm levels enable identification of a "runaway" process or broken sensor. Selectable up/downscale failsafe modes ensure a safe, predictable shutdown with a NAMUR-compliant fault response.
08.02.2011